Bridge on the River Kwai–Day Trip out of Bangkok

Some of the best information about getting to the Bridge on the River Kwai are found on http://www.seat61.com/Bridge-on-the-River-Kwai.htm Here you will find timetables and suggested 1, 2 & 3 day itineraries.


The railway line was built during the 2nd World War by the Japanese as part of a supply route to Burma. The portion 128km west of Bangkok was made famous by the film "Bridge over the River Kwai". Known as the Death Railway 270,000 Asian labourers and 62,000 Allied Prisoners of War (POW) were forced to work in slave conditions and at least a third lost their lives in these harsh conditions.

It was partially destroyed by bombing during the war but has been restored to working condition.


Kanchanaburi War Cemetery and the JEATH War Museum provide historical information about this sad period of history.
The War Museum not far from the bridge on the River Kwai , and is well worth a visit. Admission is 40 Baht , and the museums are open from 7:00am until 6:30pm.





How to Get There
Kanchanaburi is 2-3 hours from Bangkok, depending on which method of transportation you choose.
By Bus:
Air-conditioned buses leave from the Southern Bus Terminal daily with about 2 every hour and cost about 100 baht.
There are also non-aircon local buses leaving from the Southern bus station on a regular basis about 4 times an hour.
By Car: Kanchanaburi is a 3-hour drive from Bangkok. Following the Highway 338 to Nakhon Chaisi Province and then Highway 4 to Kanchanaburi. You could also hire a taxi for the day for around 2,500 baht
By Train: Trains depart the Bangkok's Thonburi Railway Station at 7:45am and 13:35pm. The journey costs about $3 (100 baht). There is only one class on this train and that is 3rd, but the trains a are clean and practical. You will see plenty of locals going about their daily business.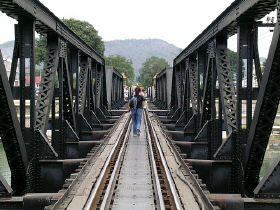 At Kanchanaburi, you can walk across the bridge but as it is a working railway you need to avoid the small number of trains crossing the bridge.
Other organised tours to the Bridge on the River Kwai include:
http://www.bangkok.com/beyond-the-city/riverkwai.htm
http://www.thailandhighlight.com/river-kwai-kanchanaburi-tour.html
http://www.isango.com/thailand-tours/bangkok-city-tours/river-kwai-bridge-and-death-railway-tour-from-bangkok_14794
http://tour.sawadee.com/riverkwai_package.htm
Note: be wary of visits to the Tiger Temple. The animals are not well treated and the visit is not recommended by most who have been there.